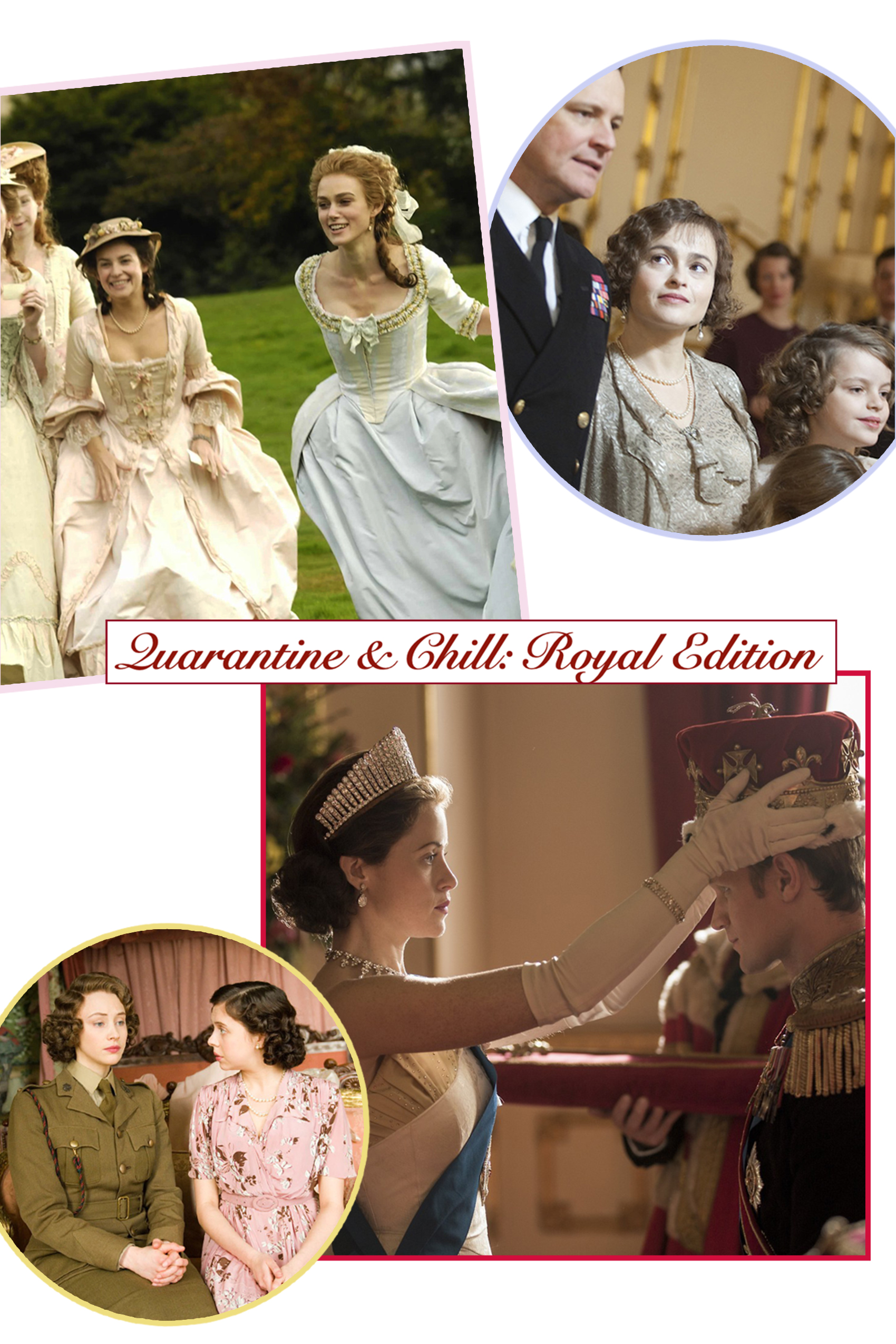 My queens, there are no two ways about it — these are scary times.
I'm also sure that, for quite a lot of you, these are also quite different times, suddenly spending the vast majority of your time at home.
All day.
Every. Day.
I'm not complaining! I think it's the responsible thing to do to spend as much time at home as you possibly can during these uncertain times. We all want to keep each other safe. But! That doesn't make it any less of a huge change.
Luckily, there's something that we're all already pretty great at that will definitely help pass the time:
Binging!
And fortunately for us, there are all kinds of royal-themed programming on both of the major streamers — Netflix and Amazon Prime.
So select your royal jewel! Snuggle up in your viewing locale of choice. (I personally love my bed.) And keep on washing those hands like they're about to shake the queen's! <3
NETFLIX
The Crown (obvi — BRF 101! If you haven't started it yet, now is definitely your time)
Diana: In Her Own Words (featuring actual recordings from Diana)
Diana: 7 Days That Shook the World (about the immediate aftermath of Diana's death)
The Royal House of Windsor (a documentary series)
Elizabeth at 90: A Family Tribute (another doc! With interviews from William and Harry)
Secrets of The Tower of London (for those who like their documentaries a little dark)
The Windsors (a spoof on the current royal family that is apparently — honestly, shockingly — very popular at the palace!)
The King's Speech (starring Colin Firth as Elizabeth's father, King George VI, who meets with a speech coach to cope with his stammer, so that he can deliver his declaration of war against Nazi Germany in 1939)
Elizabeth (starring Queen Cate Blanchett as Elizabeth I)
Elizabeth: The Golden Age (ditto!)
The Duchess (starring another queen, Keira Knightley, as the notorious, much beloved Duchess of Devonshire — fun fact: Diana's great-grea-great-great aunt!)
A Little Chaos (starring Kate Winslet as the designer of an outdoor ballroom in the gardens of Versailles)
Reign (about Mary, Queen of Scots. It takes lots of liberties, but it's also quite fun and romantic!)
And because Christmas warms our hearts, no matter the season, right?
A Christmas Prince
The Princess Switch
INCLUDED WITH AMAZON PRIME
The Royals (the juicy E! TV series that I would LOVE to see revived somewhere!)
A Royal Night Out (about Elizabeth and Margaret out in London on VE Day in 1945)
The Royals (a documentary! More focused on the young royals. Not to be confused with the show)
Princess Margaret: Her Real Life Story
Victoria (via PBS) (about Queen Victoria, of course! Charting her course from the day she finds out she's going to be queen)
Downton Abbey (via PBS) (specifically, Season 4, episode 9 — the episode where Rose presented is to the queen at Buckingham Palace)
The Spanish Princess, about Catherine of Aragon, is also great, but you'll need to pay up for that!
Next up — royal book roundup! Stay tuned!!
XO, Rosie