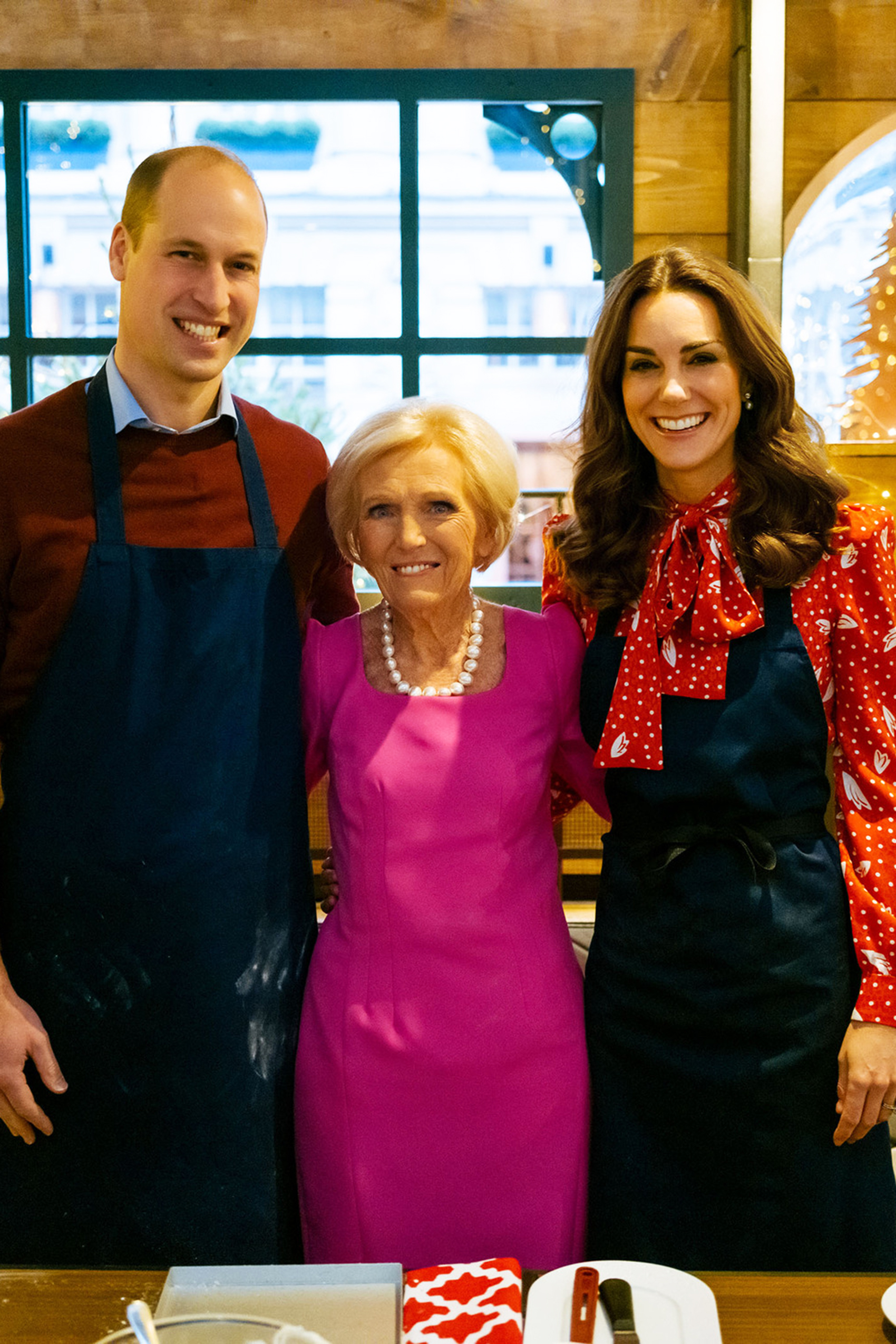 My queens!
I have no doubt you've already heard, because news like this can rarely be contained, but on the off-chance you haven't, I am thrilled to share the MOST delightful news:
William and Kate are getting a Christmas special.
ON TELEVISION.
(Ahem: !!!!!!!!!!!!!!!!)
Specifically, the Cambridges are teaming up with Mary Berry, The Great British Bake Off's beloved former judge, on a big feast that she and the Cams dreamed up to honor the workers and volunteers of various charities and organizations devoted to helping the needy during the holidays.
Naturally, Berry will be whipping up some of her favorite Christmas dishes for the festivities, and reportedly, Kate and Will are getting into the kitchen with her.
(I have lots of faith in Kate, but do we think my man Will can cook? 🧐 Opinions welcome!)
In return, Kate and Will will be taking Berry to visit those same charitable organizations, which invites us at home to learn more about them and perhaps even get involved.
The special has gloriously been dubbed "A Berry Royal Christmas," and it will air on BBC One (and, I believe, its app!) on Monday, December 16th — and frankly, not a moment too soon.
And not just because this is going to be such a treat. I mean: 
My heart just grew three sizes looking at that.
But beyond that, there could be no better time for The Firm to have a win. With Harry and Meghan on "leave" from royal duties (which, IMO, is more than fair, but nevertheless), and Andrew, fully disgraced, basically being banished from the palace (the Queen even cancelled his 60th birthday — highly fair), the royal family — and many people's opinions of them — has been shook as of late.
Couple that with that fact that many royal families are slimming down — something Sweden did recently, and something Charles has reportedly been advocating for for quite some time — and you can probably understand those Brits who have asked, just what are we paying for anyway?
Well, Will and Kate are taking one for the team here in a move that is sure to boost ratings. They've volunteered to be on national television. For a whole hour of a special. And timed to Christmas.
With DESSERT!
Yes, it's fluff. But it's the kind of fluff that warms the heart… and perhaps even puts it in a forgiving mood, no?
(Vvv smart.)
Also worth mentioning: Kate has only done two taped interviews — ever! First, when she and Will announced their engagement, and second, just this past October — a whopping nine years later — during their royal tour of Pakistan. And that was barely a few minutes long.
So you know things must be dire.
But! You know what? Despite that latter interview being quite brief, you could really feel her confidence coming through, and you loved to see it! (You could see it again during her little speech to open The Nook last month, too. Even the outgoing CEO of that organization commented on it! And very sweetly, I might add.) So there's no better time to be putting her front and center.
And I think in her element — throwing a bash (her family's specialty!) for the people who support the causes that really mean a lot to her — we'll see that self-assurance on display even more. And I think we'll get to learn more about the hard work she and Will (and many other royals, no doubt!) are putting in behind the scenes.
Which is all to say this isn't just a win for The Firm. It's a specific win for House Cambridge, too!
Separately, I am very intrigued to know what else — if anything — Kate has been talking to the BBC about! She had a meeting with the director-general last month, and many believe it has something to do with her focus on the "early years" in children's lives, something she has focused her charitable time on since the very beginning of her time as a duchess. I would LOVE to find out that Kate's launching her own children's program! You?
And what do you think of the rest, my queens? Are you ready to watch this special? Pumped that the Cams are getting into the holiday spirit? Hoping George and Charlotte pop in, too? (That's my ULTIMATE dream!) Talk to me in the comments!
XO, Rose
p.s. Kate's dress is by Alessandra Rich, and I've linked it below (and fyi, it's 40% off at the moment!) + I added a few wallet-friendly options, too!
Lead photo by Matt Porteous via @KensingtonRoyal