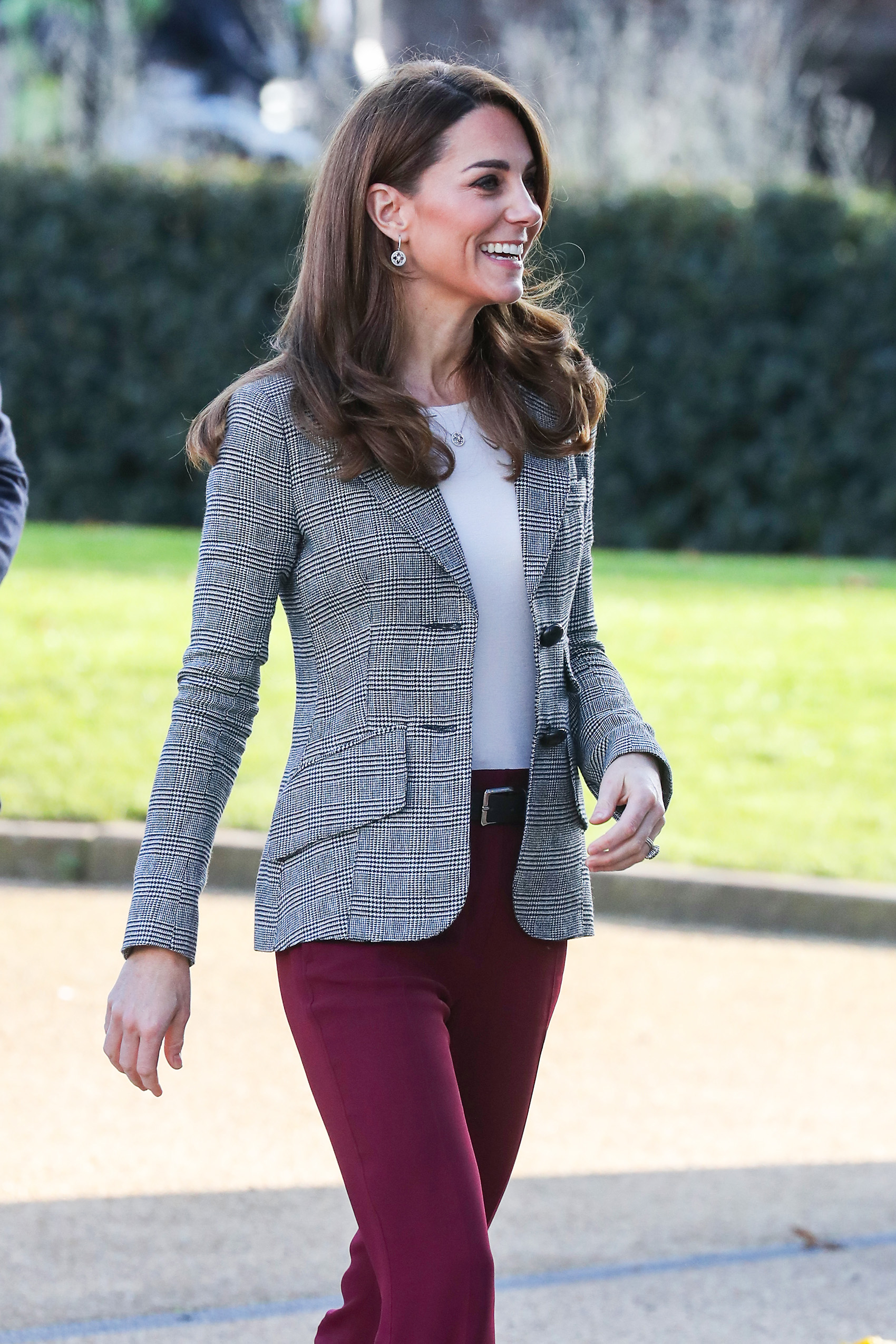 My queens!
We've had an embarrassment of riches from our royal ladies these past few days, what with so many appearances. But revel and you shall receive, because we've got another one today — from Duchess Kate and Prince William, and it included a killer pair of burgundy pants.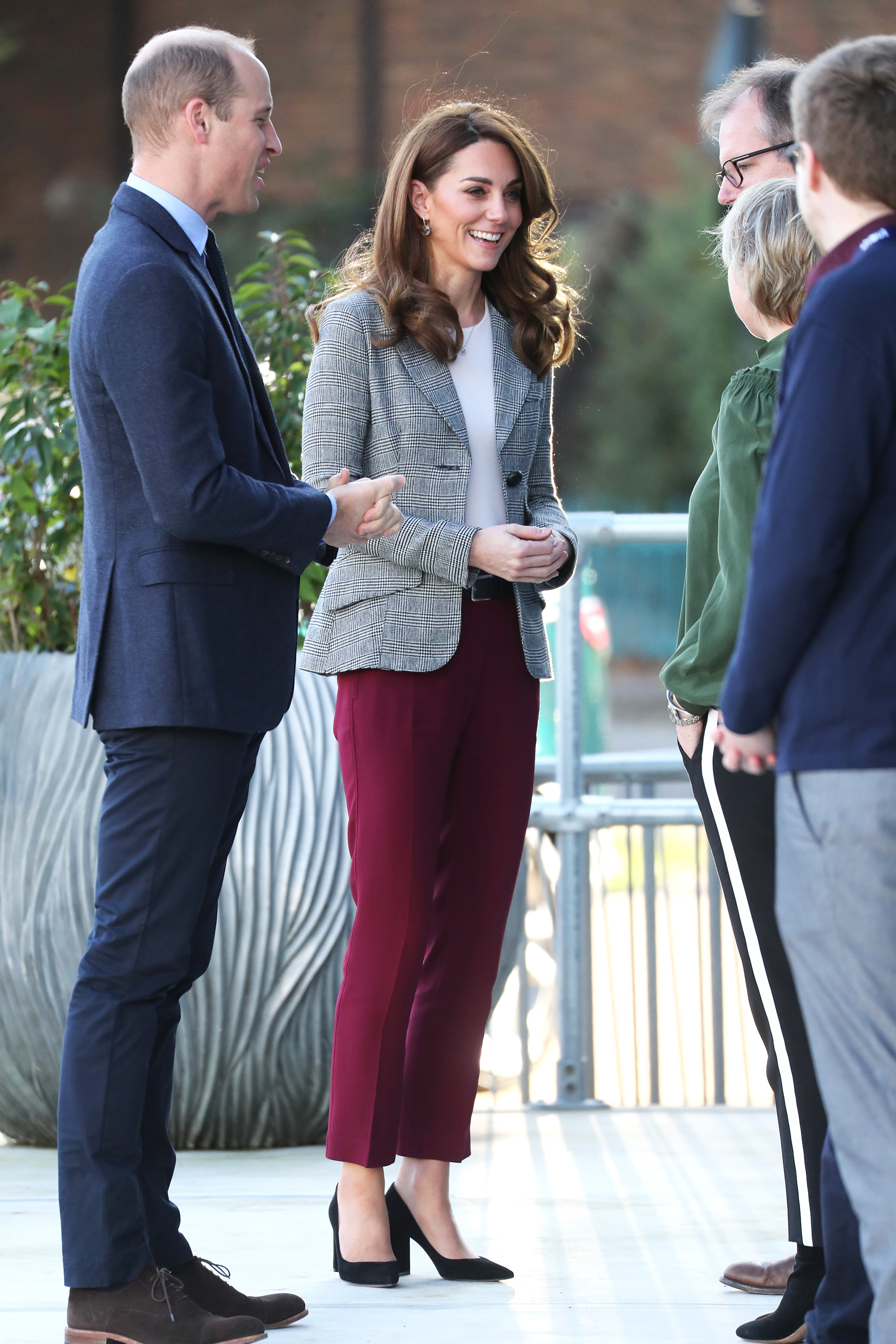 Am I wrong?
(Also, that Big Hair Energy. 😍)
The Cambridges were attending the Crisis Volunteer Celebration for Shout, the 24/7 text message support service they launched with Harry and Meghan this past May as part of their Heads Together initiative. According to Hello!, the hotline has engaged in 145,000 conversations via text with people in crisis, exchanging 6 million messages about anxiety, depression, and more.
To celebrate the support service's success, Kate and Will met with some of the 1,500 volunteer communicators from all over the U.K., as well as mental health campaigners and supporters, to say thank-you.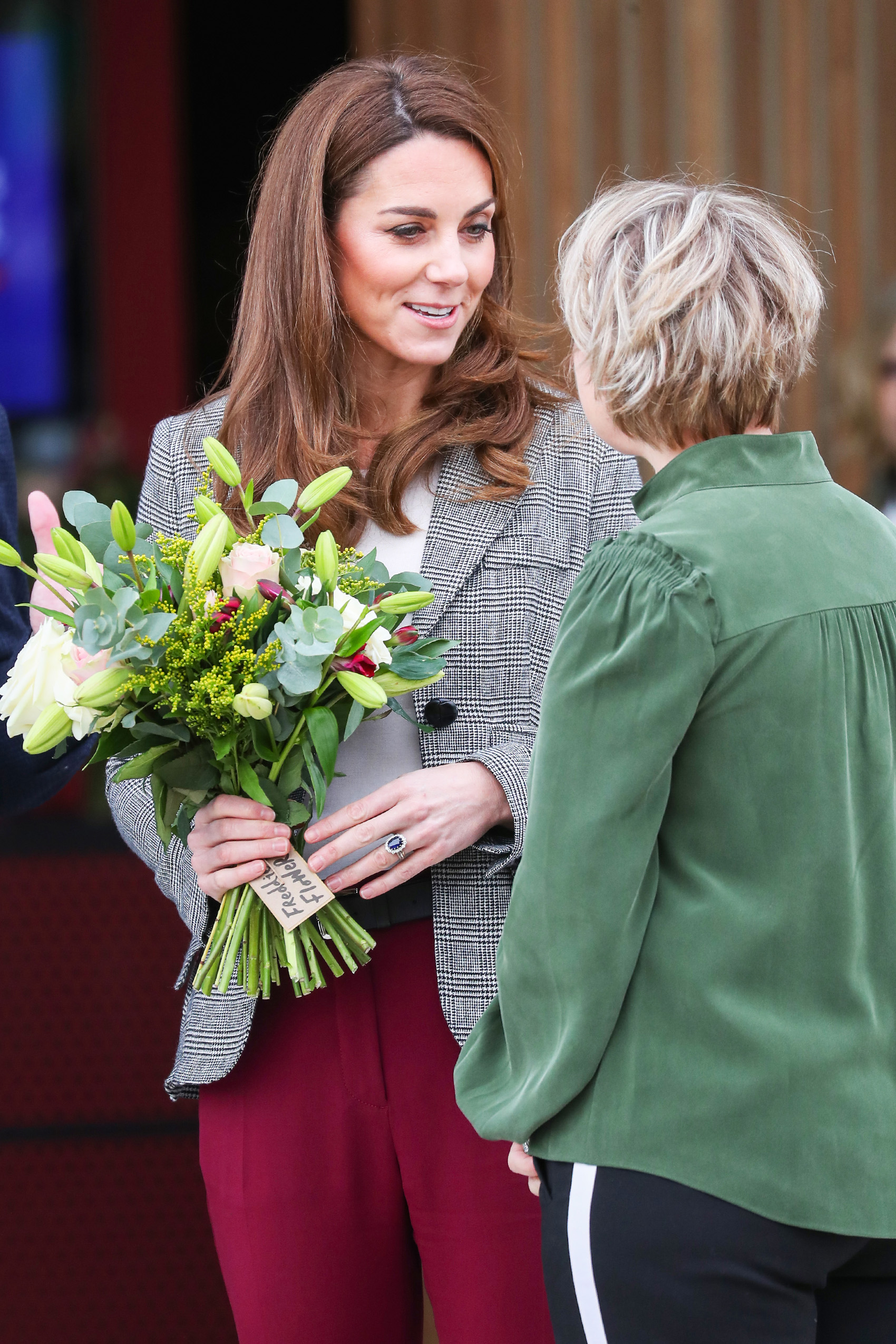 (Shout-out to Freddie's Flowers — so beautiful!) 
As it was a casual occasion, Kate chose a casual — albeit, still tailored and chic — ensemble, including those holiday-perfect burgundy pants, which are by Joseph (sold out!), a checkered Smythe blazer (also sold out), a white top, Gianvito Rossi's black block "Piper" heels, and her tried-and-true "Empress" earrings and pendant by Mappin & Webb. While the cause is obviously a very serious one, those pants were a bright pop of color that I think are instantly cheering, so a perfect choice on Kate's part. 
And can I just say, you know what could have been the perfect finish? The same padded beaded headband she wore to the Festival of Remembrance, but in the burgundy shade that's still available. (I've got the link for your in yesterday's post!) 
Most of all, if you're in the U.K. and feel emotionally distressed or know someone who feels emotionally distressed, text Shout at 85258.
And if you're in the U.S. and feel the same way, call the National Suicide Prevention Lifeline at 1-800-273-TALK (8255). 
Both organizations are designed to help and save lives every day. ❤️
XO, Rose
Lead photo by Chris Jackson/Getty Images